There is a false positive detection by Eset Antivirus and Eset Smart Security this morning
Just about every Google search comes up with the message. These include links via Google to guaranteed safe sites like Microsoft and Eset themselves
It has been reported as a false positive and hopefully a new definitions update will be pushed out urgently and quickly
ESET NOD32 Antivirus
Threat found
Access to the web page was blocked. Show URL
Access to the web page was blocked.
http://www.google.co.uk/url?sa=t&rct=j&q=&esrc=s&source=web&cd=7&ved=0ahUKEwiCvazv2pzLAhWJRhQKHW4CCv8QFgg9MAY&url=http://answers.microsoft.com/en-us/windows/forum/windows8_1-performance/32-bit-application-fails-to-start-after-81-upgrade/b825723e-e2a2-4c8f-bd1f-10446a5d7059&usg=AFQjCNEMBOsiyDrA7yaR_b9wN2RsjijxIQ&sig2=QlW4VGgFNlDrT6sHngrwdA&cad=rjt
Threat: HTML/Refresh.BC trojan
Proceed to the siteGo Back
Screen shots look like
All Antivirus and security software do give false detections at times. This one is annoying but not dangerous. Just wait for a fix to be pushed out or temporarily use a different Search engine, like Bing until Eset fix it.
A temporary fix for this until the definitions are revised and pushed out is to open your Eset program. Select enter advanced set up. select Web access protection, then uncheck the HTTP protection. Press OK and exit Eset
That will leave you less protected from web threats but if you are severely impacted by being unable to use Google searches then that is the least bad alternative.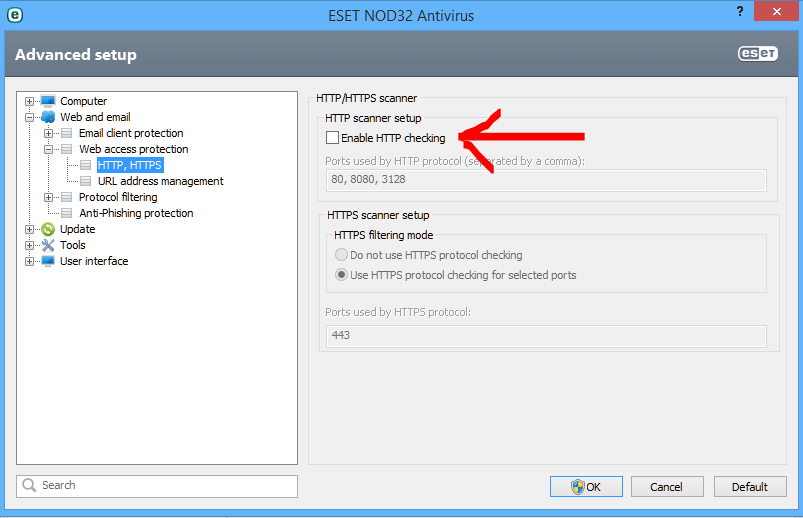 Remember to reverse the setting and restore full protections later today when it is fixed
An alternative is to rollback the recent definition update to an earlier one as described HERE http://support.eset.com/kb3676/?locale=en_US This is for The enterprise version, but consumer versions are very similar from advance settings, expand the update link and press rollback
Update:
there are posts on the Eset Forums about this problem and about JS/ScrInject.B on several German pages https://forum.eset.com/topic/7554-jsscrinjectb-trojaner-detected-on-suvbsites-of-biggest-german-news-site-focusde/
All of these are annoying and will no doubt be talked about for days to come. But they are at least blocking you from potential threats, rather than letting them through.
I will continue to use Eset and recommend their products as being amongst the best protection on the market.